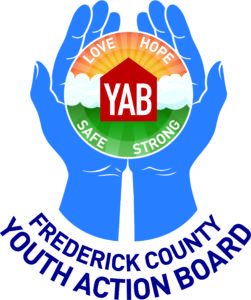 WHAT IS THE YOUTH ACTION BOARD (YAB)?
The Frederick County Youth Action Board is a group of young adults who are currently experiencing or have experienced housing instability or homelessness in Frederick County, Maryland. This leadership platform engages youth and young adults in providing feedback and education from their experiences to further improve services and systems designed to help them.
TRUTHS AND VALUES
As part of our mission to educate about the realities of experiencing homelessness, we have gathered a list of things we know to be true.
As outside organizations seek feedback from the Frederick County Youth Action Board, we created a YAB Truth And Values document to communicate our values, norms and expectations. In our value document are the values organizations must comply with to partner with the FC-YAB. These standards are incredibly important to be able to authentically engage with our group.
FOCUS AREAS
Realities of different living situations

Perceptions of living situations are commonly altered, especially in regard to youth homelessness. People experiencing homelessness live in a variety of different situations, not exclusively outdoors, in shelters, or hotels.
Various living situations can be harmful to the health and development of youth from all backgrounds, resulting in complications with the overall wellbeing of the youth over time.
Students Rights to Education

Youth face great challenges when experiencing homelessness and combatting barriers accessing equitable educational supports designated under the federal McKinney-Vento legislation
These challenges range from difficulties with transportation affecting attendance, to behavioral issues and lack of support within the school system itself.
Mental Health/ Stress/Trauma

Youth experiencing homelessness or housing instability are more vulnerable to excess stress and trauma.
Assistance and access to mental health help is a challenge amongst youth, as they face events that may impact them for the rest of their lives.
Barriers to Access Services

Youth face issues accessing services of all kinds due to age minimums, transportation issues, and services that require parental consent that is not available.
COVID-19 has caused plentiful complications when it comes to accessing these same services.
Data

The accuracy of data helps our services receive more funding and awareness of homeless youth all across the county.
There is a lack of reliable data on youth experiences of homelessness.
Helping Hands

We wish to have more help in supporting youth experiencing homelessness or housing instabilities by being able to highlight helpful resources available locally, including fee waivers for higher education applications and testing fees, free food to youth in need, more youth specific services, transportation assistance, pantries for clothing and other needs, as well as increased hygiene supplies.
FAQs
What do you do?/ How do you get stuff done?
This group is youth led, the voices of the youth are what we thrive off and their opinions and voices are how we decide on what to do. We have a meeting schedule and get together to talk about our experiences and brainstorm action steps.
Who can join?
Who can be involved?

Youth who have experienced homelessness, or housing instability (ages 16-24)
Unsure? Send us an email!
What are some examples of previous projects?
During the COVID-19 shutdown, we provided recommendations to Frederick County Public Schools providing concrete examples of how they could further support youth experiencing homelessness during closures of schools and how they can assist students transition back into schools
Provided feedback to the Trauma Responsive Frederick Community Group regarding barriers to accessing services
Participate in the statewide Ending Youth Homelessness Act Coalition
We are currently working on raising awareness of experiences of homelessness youth that are commonly overlooked.