Homeless for the Holidays
December 1 @ 8:00 am

-

December 31 @ 5:00 pm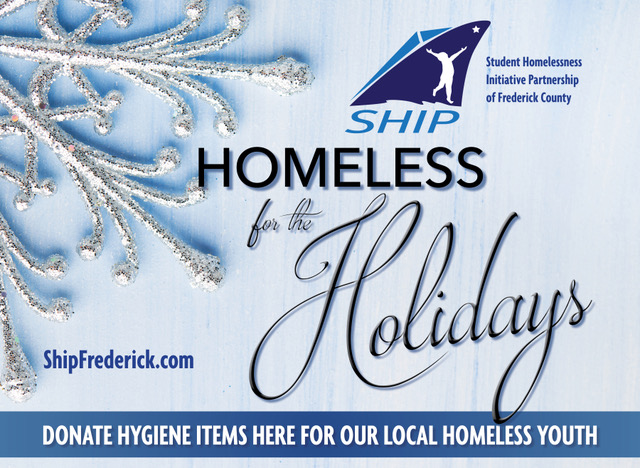 Held for the entire month of December each year, businesses throughout Frederick County place donation bins within their locations for the collection of hygiene items which are then provided to homeless students in need throughout the year. Those full-sized items include:
BATHING ITEMS                                                                 HAIR CARE ITEMS
Shampoo/Conditioner (2 in 1)                                                   Brush, Comb, Hair Bands, and Barrettes
Kid's 2-in-1 Shampoo
Body Wash
Acne Face Wash
Kids' Body Wash
Shaving Cream – mens and womens
DENTAL ITEMS                                                                     OTHER
Toothbrushes                                                                                   Deodorant – mens and womens
Toothpaste                                                                                        Lotion
Kids' Toothbrushes                                                                          Anti-bacterial Hand Gel
Kids' Toothpaste                                                                              Laundry Soap
Dental Floss                                                                                     Feminine Hygiene Products
Chap Stick
Note – all items should be full size.
Beginning December 1, collection bins will be located at:
The Temple, a Paul Mitchell Partner School, 22 W. Church Street, Frederick 21701; (301) 682-7550
Serendipity Market & More, 14 E. Patrick Street, Frederick 21701; (301) 360-5463
Frederick County Bank – all 5 branches, including:

2 N. Market Street, Frederick 21701
165A Thomas Johnson Drive, Frederick 21702
6910 Crestwood Boulevard, Frederick 21703
490 Monocacy Boulevard, Frederick 21701
200 Commerce Street, Walkersville 21793

Central Offices – Frederick County Public Schools, 191 South East Street, Frederick 21701
New York New York Salon and Day Spa, 1201 N. Market Street, Frederick 21701; (301) 695-777
Plato's Closet, 5100 Buckeystown Pike #162, Frederick 21704; (301) 644-1190
Frederick Pediatric Dentistry, 77 Thomas Johnson Drive, Ste. A, Frederick 21702; (301) 682 3887
The Main Cup, 14 W. Main Street, Middletown 21769; (301) 371-4433
More locations will be identified as we get closer to the month of December.